Solar-Powered LED Fairy Lights
Description:
Bring a touch of cozy and romantic ambience to your home by simply adding a few strings of Solar-Powered LED Fairy Lights! They do not require any wiring and cost nothing to stay lit. 
Main Features:
Money saving, powered by sunlight, no outlet needed

Waterproof

Great garden decor, bright and eye-catching lights, decorate anywhere without dangerous extension cord

8 flashing modes, you can create the exact ambience you want!
Available in 100 and 200 LED version
Instructions:
Solar powered led lights require a full 8 hour charging up for 6 hrs of lights
Switches under solar panel:

On/off button
Mode button to switch between light settings

Solar panel has light sensors which will automatically:

Turn on solar lights when light levels are low

Turn off solar lights when light levels are high
**We also have the netting version; simply wrap and you're done: Solar-Powered Warm-White LED Twinkle Net Lights (240 LEDs) <---Click Link Here
Specification:
Product Size
Cable Length:
Warm-White 100 LED: 15.75 m
Blue & Multi-Color 100 LED: 12 m 
Warm White 200 LED: 21 m
Product Weight
100 LED: 226g/7.97oz
200 LED: 500g/17.64oz
Package Component
1 x 100 LED Fairy Lights with Solar Panel
OR
1 x 200 

LED Fairy Lights with Solar Panel
Customer Reviews
Write a Review
Ask a Question
09/03/2018
LN
Lori-Ann N.
Great lights. I recommend these!
They are not the brightest lights but hey, they are plugged free and you don't have to worry at all to plug them and unplug them. I had them during Christmas time outside my house and they have been standing cold, snow, wind and sun. When we took them inside, they were still brand new, so I am very pleased with this purchase. They are really long as well, so it is definitely worth giving it a go.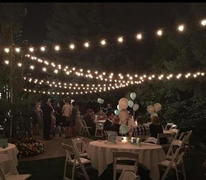 07/23/2020
Anna
United States
you want these
I gave two strands of fairy lights to my son for his birthday. He has such a cute back yard and I knew these would be a great addition. One strand worked and the second did not. I contacted Nextdeal . They requested a photo of the defective strand. I had a new working strand in a couple weeks. (Covid times). great customer service and these lights enhance any environment
06/30/2020
Jennifer b.
United States
Beautiful
Took a while to get here but they look really nice on my fence around the garden ,love to change the patterns every few days. Beautiful blue color.
06/21/2020
Karen M.
United States
Beautiful and non electric so free to operate
A+
Solar string lights
I have purchased over a dozen lights easy over the years. I have them all over my back yard and I have them around my son's cross. The lights make me smile. They are so beautiful.
ordered more
Just received mine and ordered more, they are beautiful wrapped around my tree.
07/01/2019
Anonymous
Australia
Fantastic
Very quick ordered and arrived within 3 days
Solar powered fairy lights
Love them have them in my trees in front yard they look great have used them since Christmas like the look so have just left them in the trees
Twinkle
They always light up, love the twinkle in my yard!