2 Pcs Heavy-Duty Solar-Powered LED Driveway Lights
Description:
Make roads and driveways clear and bright with these Heavy-Duty Solar-Powered LED Driveway Lights. Place them in direct sunlight for solar charging.
Main Features:
Ultra-bright LED anti-fog lights
Heavy-Duty
Solar-Powered and Waterproof
Illumination lasts up to 80 hours after a full charge
Made from Aluminum
Specifications:
Product Size
11 x 9.7 x 2.4 cm
4.33 x 3.82 x 0.94 inch
Product Weight
300g/10.58oz
Package Components
2 x Heavy-Duty Solar-Powered LED Driveway Light
Product Color
Silver
Light Color
Blue, Yellow or White
Customer Reviews
Write a Review
Ask a Question
Rugged solar light that work!
I dont normally post reviews, but I'm so impressed with these solar lights I feel compelled to post a review. I installed these on my dock. They are very well constructed and work very well. We just had 4 days of clouds and rain - no sun at all - and these lights came on every night, all night. Excellent product.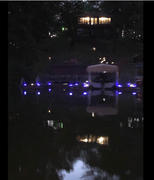 A really nice little light!
This little guys are very attractive and extremely well made out of a die cast aluminum. They turn on at dusk and stay lit all night long until it's light again. A very nice bright white light. They look very classy on my driveway and so much better than the cheap plastic mushroom style lights that I see everywhere.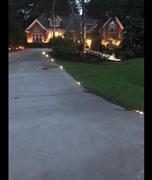 09/04/2019
Edward F. Hart
So far everything looks and works good deck lights
So far everything looks and works good
Sturdy, bright, run all night, need to seal them with silicone to prevent water leak
These are strong cast aluminum, the lights are bright, and the remain lit all night. Bought in a 12 pack they are much less expensive than the similar (identical?) units sold at home stores. I use them to light my dock. However, they are not waterproof for long! My original set, now a couple years old, failed when rain water leaked in. So this time I sealed the photocell edges and lenses with clear silicone sealant before installation. Hopefully this will prolong their life because otherwise they are a great product.
09/04/2019
Stephen J. Pierce
Heavy Duty Metal Housing
These lights are built heavy duty. Solid housing and completely sealed to prevent moisture intrusion. I charged them in direct sunlight for 10+ hours to make sure they were fully charged before mounting them to my paver wall. The lights remain lit for at least 12 hours. Excellent product and fast delivery! Will purchase from Nextdeal again!
Excellent product. I need to purchase a few more to finish the job.
The lights are installed on both sides on my driveway drilled into the concrete using a hammer drill. Installation was a breeze and the lights are quite bright and do an excellent job illuminating the outline of my long and tricky driveway.
Great lights for boat dock
Very easy to install. Great lights for dock. We choose blue and white. Very pleased.