Wide Angle Solar-Powered Motion Sensor Security Light
Description:
Looking for the perfect outdoor security light for your garden, patio, or yard? This wide angle motion sensor light that features 18 LEDs at the front and 3 LEDs on each side is sure to give you the widest illumination coverage like no other! Enjoy no electricity bills for this particular light since it's powered by the sun! 
Main Features:
24 bright LEDs to illuminate and light up your environment 

Fully powered by the sun, environmentally friendly and money-saving

High capacity battery provides hours of illumination

Made from durable materials, weather-resistant & heatproof

Completely wireless and takes mere minutes to install with the included screw

PIR motion sensor that can detect movement from up to 26ft in 120 degrees

Automatically turns off at dawn and on at dusk

3 intelligent lighting modes - continuous full brightness/ dim + bright mode on sensing
motion/ off until motion is detected

Perfect for your garden, patio, deck, or stairway lighting around the home

 
We also have ALL-NEW Solar-Powered Motion Sensor Light (w/ Detachable Solar Panel), for you to install it anywhere you want!
Specification:
Product Size
15.3 x 10.5 cm / 6 x 4.13 inch
Product Weight
260g/9.17oz
Package Component
1 x Solar Motion Light
2 x Screws
2 x Expansion Rubber
Customer Reviews
Write a Review
Ask a Question
02/06/2019
Anonymous
Canada
Solar power of motion sensor light
First I only bought one, and once we found out how good it was we ordered the last batch. They won't be put into use until June 2019 because by the time they arrived, it was too cold to sit outside. We will use them come summer as they work extremely well and we were very happy of the area the light covers. These lamps are going to be placed around our home to aid in securing other areas.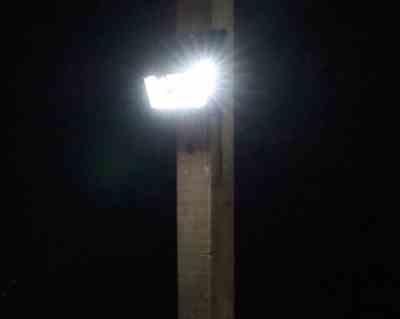 09/10/2018
Cynthia S.
United States
08/11/2018
Elena B.
New Zealand
See for yourself!!! Very bright!
These solar lights is one of the best things I've done for my Garden. They came with no damage, very easy set up instruction, (you can't miss) l uses a garden tie to mount them on the rose tunnel where they received full day's sun and when I walked through at night, WOW! my usually dark south garden just lit up as I walked through! Now my family love coming into the house from the garden gate. It's very nice and very bright. Note that these are motion sensor which is exactly what I was looking for so as not to disturb some nocturnal garden creatures! Lol. I've had them up now for over a month and everyone that comes through my garden at night absolutely loves it. Thanks for enhancing and making my garden space much better!
07/30/2018
Maura D.
United States
06/17/2018
Lea H.
Australia
06/11/2018
Jean M.
United States
Great way to add visibility and safety to dark areas around the home.
Excellent build quality, very solid. I like the waterproof switch in back, and simple install. Will update after they've been installed for a bit if there are any issues. As it stands, the nightlight is good enough for giving visibility to a walkway, or back patio. You'll easily be able to see any groundhogs, or raccoons hanging out nearby. The bright light is VERY bright, and can easily light up a fairly large area.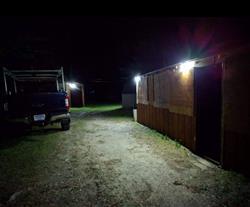 01/08/2018
April R.
United States
12/04/2017
zachary h.
United States
12/06/2018
Dale P.
Canada
Smaller than I thought, but very big light.
Good bright leds,works great in places that get sunlight.I like the different settings.the sensor is great just can't have it on the side close to the road,cars passing by keeps it on all night
12/06/2018
Marc B.
United States
Works perfectly. $$ saver
Installed these on a shed and on the side of the house. I live on an acre and the shed is way out. This certainly saved me $$$$$$ of having to wire these locations. All four work as described. I turned on the dim setting which allows me to see where I am going then the sensor works perfectly. There is plenty of light where I need it to keep from tripping over myself. I am looking to buy more
12/03/2018
Leonie P.
Australia
Motion Sensir security Light
Excellent service with timely delivery. The lights are keeping the chooks safe from Mr Fox.
11/30/2018
Anonymous
United States
Wide Angle Security Lights
happy with the purchase!
11/26/2018
Jerry A.
United States
Amazing Light!
This Solar light really did it's job and more I was amazed how bright it lit up the dark areas outside my house and even in the streets. On top of that it recharges itself with the natural sun how awesome is that. Definelty worth a buy and its such a good price.
11/26/2018
Barb M.
Australia
As they are christmas presents
As they are christmas presents they haven't been used as yet.