SUPER Solar-Powered Motion Sensor Light - Super Bright, No Wiring Needed, Easy Installations.
Description:
This is by far the strongest and brightest outdoor motion sensor light on the market, featuring 38 LEDs, 400 Lumens.
Main Features:
Easy to install and maintain

No wiring necessary; solar energy powered

Durable, weather-resistant & heatproof plastic construction

3 Modes - Constantly Bright; Dim-To-Bright; Off-To-On mode

Automated switch - Auto on at night / Auto off at sunrise; Dim light when no motion / Bright light activates when sensing motion

Super Bright (38 Bright LEDs)
Specification:
Product Size
22 x 13.2 x 8 cm
8.66 x 5.19 x 3.14 inch
Product Weight
410g/14.46oz
Package Component
1 x Solar Light
2 x Screws
Customer Reviews
Write a Review
Ask a Question
09/03/2019
John K.
United States
08/02/2019
Ted P.
United States
Lights for Haiti
I have to say the very long frustrating wait was worth it. If I may say, it takes every bit of 1 month to receive and not a day sooner. If you need the lights ASAP, you better shop elsewhere! I purchased these lights to be mounted (was very easy) on my block wall that encompasses my mission house in Haiti. When we installed, we liquid nailed the anchor into the wall to give that extra support, (not necessary here in the US). The lights are light weight for travel and really provides great light for about an 8 foot span and 8 hour period at 50% light setting. The lights cut on at 7:05 pm and cut off at 5:30 a.m. same time zone in Haiti as the U.S. (March 13 we installed). I did leave them in the sun for a full two days to charge (1 day is sufficient). I will be purchasing more lights for my June trip most likely around 12-15 more sets. My initial purchase was 6. Hope this was helpful, I researched many lights before I purchased and the wait on shipping paid off!
1 Light Replaces Around 8
Tenant bought some 20 buck ones from HD to light the stairs and they stopped working within a week lol. (They cannot get sun where needed and really only give off only enough light for half a single stair) I bought this one and instead of needing almost 8 to light an area I can do with 1-2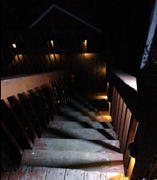 wonderful
My gate is dark and I have seen several poisonous snakes during snake season. I charged the batteries and installed it on my gate post. It has been several months now and it has seen several hard storms and only gets full sunlight for about half the day. I have not seen any problems or malfunctions and it runs very bright and is small and inconspicuous so it isn't awkward looking on / by my gate.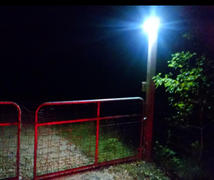 02/12/2020
Linda N.
United States
You won't be disappointed
Ordered 2 lights & I truly love them !! Great anyplace you want to use them. I have them in my back & they're great when my little fur baby goes out at night .
Working for 2 yeasrs already!
We have had ours for over 2 years, winter, snow, everything!..They still work great!..and never a loss of light. never a problem with them. Definitely would recommend
They work well
yeh for out our back door and chicken coop. They work well just a white light.
10/07/2019
Helen H.
Australia
Pretty neat!
This product is not as easy to install, at least not for me because I don't have the necessary tools, but my dad helped me. This is waterproof so it should be fine outside. I don't need to plug it in and there is no switch on the wall to turn it off/on. It charges by sunlight which is neat. It's smaller than expected but it gets the job done. Overall, it does what it's supposed to do and charges by sunlight and it's reasonably priced.
10/02/2019
STEPHEN C.
United States
So nice
Iíve got two and love them
10/02/2019
Kelly B.
United States
Great lights
I love these solar lights. The one in the front I have on low all night. It's gets brighter when someone walks up. I get up in the morning when it is still dark and the light is still on. Have had them since about last December and they will work great.
DEAL
Bought 2 of these six months ago. Work great despite the great price!