Solar Powered Flag Pole UFO Light
Description:
Need some lights for your flagpole at night? This solar powered flagpole UFO light will be your best option.
Main Features:
Fitting for most of flagpoles (Through hole for 0.6in)- Thanks to the independent solar charging system, there is No hassling with wires and electrical connections. Easy to install, no special tools required.

Charged by 11 big solar panels, provide a great energy source for the lighting, high-quality material made this solar flagpole light more durable.

Automatically turns on at night and turns off when daylight returns- Be sure to turn the light 'ON' via the ON/OFF button before installation. Face the solar panel down, if light, it's ON. If not, please turn it on by pressing it.
Built-in 2200mAh large capacity rechargeable battery for 30 brighter energy efficient bulbs; working time up to 10 hours at night after a full sunny day of charging.
Specification:
Product Size

24 x 23 x 5.3 cm
9.4 x 9.1 x 2.1 inches

Product Weight

500g/17.64oz

Package Component

1 x Solar Powered Flag Pole UFO Light
Note: 
Package only includes one flagpole LED light. Please kindly note that pole and ornament ball are not included.
Customer Reviews
Write a Review
Ask a Question
Excellent Product and Price
Bought this for my flag pole. Had to replace my older light which was a below flag mounted system. It shattered from the cold and water build up since it pointed up. This was a very easy install and since it points down seems to be a better item since its lights downward. Its very bright and provides 360 degree of light downward to the flag and the flag pole base. Great buy and price.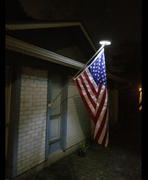 Sturdy and bright
So this didn't fit on my pole. Maybe I misunderstood the size needed, I thought it was more of a one size fits all type of thing. Luckily the end of my pole is wood so I just ******* in a long screw that holds it in place. I like it a lot, it's nice to not have to leave my porch light on all night. I was concerned for stability with the little extra weight it adds to the end but it held up during some of our big storms lately.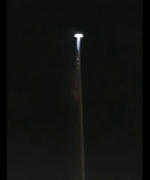 07/10/2020
Karen .
United States
Love it
I really like it, the only bad thing was we had to modify our flag pole , it was to big! But we made it work!!
03/14/2020
Ed W.
United States
Flag pole light
I came in the mail finially yesterday and it works amazingly it's so bright it not only lights up the light it lights part of my yard, a great choice :-)
01/06/2020
Kerry J.
United States
Original one was nice
This is better but for Alaska, or other areas with snow , should try to make a cone shaped unit to shed snow
12/24/2019
J L.
United States
Flag pole light
One of the best buys I have ever made and really works.
Going for 2 years
They work great have had mine for over 2 years
High Q
Very high Quality Very Satisfied