Solar-Powered Easy Bird Fountain Kit - Great Addition to Your Garden!
Description:
A beautiful and effective water feature for your garden! Running on solely by solar power, this fountain kit makes an affordable and efficient pump that requires no electricity or batteries! The simple design means no messy wires will be present and features suction cups at the bottom of the kit to stay in a desired place or float freely on water. Change up the nozzle heads for different water effects and place the kit in direct sunlight for best results.
Main Features:
Runs automatically, no battery or electricity needed

Suitable for bird baths, fish tank, small pond, garden decoration, water circulation for oxygen

Easy cleaning; easy reallocation, no plugs required, small and compact
Multiple fountain heads for different water patterns
Max. Water Height: 30 - 50 cm
Available in Round-Shape and Flower-Shape
You may also like our Premium Solar Fountain Kit with Built-in Backup Battery (please choose from the dropdown menu)
Specification:
Product Size

Round-Shape:
16 x 16 x 1.78 cm / 6.3 x 6.3 x 0.7 inch
Flower-Shape:
17 x 17 x 2 / 6.7 x 6.7 x 0.8 inch

Product Weight

Approximate 260g/9.17oz, 9.7oz for built-in battery model

Package Component
1 x Solar-Powered Easy Bird Fountain
4 x Fountain Heads
2 x Attachments
Important Note:
Kindly let the solar power fountain kit get full exposure to sunshine to work effectively, avoid shadow blocking the sunlight. For optimal performance, we suggest a sunny day with temperature at least 24

°

C / 75°F
Be sure to fill enough water in the bird bath and always keep the pump under the water surface
Change water from time to time to keep the fountain clean and to avoid any dirt from clogging up
Customer Reviews
11/20/2019
Kellie .
Australia
05/17/2018
Rhonda V.
United States
Love it!
Just got this today for our birdbath and it works beautifully. The fountain was shooting too high for the diameter of our birdbath (the breeze was blowing the water over the side before it landed back in the bowl), so I used a small nail to enlarge the holes in one of the wider nozzle caps which were included. The bigger holes keep the fountain spray at about a 4 - 5 inch height in full sun rather than 12-14 inches as it was the original cap.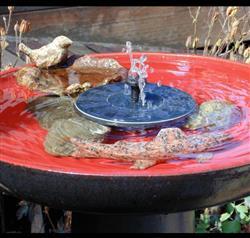 11/22/2019
Andrea B.
Australia
Bird fountain
I recieved my fountain today and I just love it it works well thank you .
Great
We have two of these, they are great!!!
Works Great
I have one of these. Works great
Do you still have these in stock
Wanting to buy
Nice Fountain for my garden
They work well
My solar powered fountain
I love my little gadget. Birds sit on my bowl and watch the water spurting, then they take a sip. I would order again in a heart beat.
Heat
Before I buy I live in the cold country can I get heated I I'll give 5 star just as it looks amazing
Lot's of compliments
I have one and it works perfectly, but I have to fill up the water several times a day sometimes because it oversprays. My plants underneath love it, but I only use it on occasion. I have gotten lots of compliments when I do.
Really Solar
I love this fountain! I know it only works when the sun is shining, but it is what it says "solar-powered". It shoots up so high like 14 inches and is just so pretty.
05/02/2019
Anonymous
Australia
Great company
This is a wonderful product and a great company to do business with. They stand by there product.
03/02/2019
Lorraine W.
New Zealand
Water fountain
It looks great,,I think it could've been packed better as the box was all Brocken