Description:
Is your hair clogging the drain? Clear it out in one go with this super effective Drain Clog Cleaning Kit! In mere seconds it'll pull out your hair or whatever is clogging your drain. It's easy, safe, and fast, ensuring a smooth waterflow. Never worry about getting your hands dirty again!
Main Features:
Easily gets rid of hair, dirt, and other gooey residue clogging your drain
Designed with mini hooks all over its loop head to grab all the hair stuck in your drain
Easy to use with reusable handle and disposable wands
Flexible and long, with a 360° spin and a far reach
A healthier and better alternative to foul-smelling chemicals or taking apart your drain plughole
Made from ABS Plastic
Caution: 
Do not use when chemical drain cleaners are in the drain
Do not use on thin, crusty pipes
Do not bend
Do not expose to fire
How to Use:
Attach a disposable wand to a reusable handle (you should hear a clicking sound when the 2 parts snap into place)
Check to see if handle can spin freely and insert it into sink or tub drain opening (it will slide past most drain stoppers and grates)
Place one hand on wand and spin handle several times with your other hand until you feel some resistance (do not exert too much force)
Carefully pull debris from the drain
Remove wand from reusable handle and throw it away
To reuse wand, remove hair with a stiff brush, then disinfect it thoroughly
Store it in a cool dry place away from young kids
Specification:
Product Size
Handle length: 15 cm / 6 inch
Long wand length: 46 cm / 18 inch
Short wand length: 31 cm / 12 inch
Product Weight
30g/1oz
Package Component
1 x Reusable Handle
2 x Disposable Wands
Customer Reviews
Write a Review
Ask a Question
03/15/2020
Melonnie M.
United States
Amazing!!!
Every once in a while I take a chance on buying a gimmick product knowing in the back of my head that it probably won't work. My sink and bathtub have been draining water really slow and so I thought it's only $12.99, heck, I spend that at Taco Bell for dinner. So I ordered it and I'm honestly AMAZED!! Although this picture is really gross, look how much hair it got out of my bath drain. I bet that's even hair from the last person that lived in this house. I definitely recommend it, it may not last for more than one usage, but so worth the price!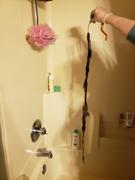 07/15/2020
Josie
Canada
Works as advertised
Easy, quick and effective. Difficult to clean. Would appreciate extra tips included.
04/23/2020
Tasha j.
United States
Great really works
It works....it got alllllll the hair that was clogged up in my tub drain....u stick it all the way in turn twist and pull it out!!!!!
04/04/2020
Phyllis M.
United States
Great little gaget
I bought this drain clog cleaning kit, thinking that it basically was a gimmick.When I opened it and looked at it .I said to myself,"I must have been nuts when I ordered this." So I put it together and started spinning.IT WORKS I couldn't believe it. Best gagget I ever bought
04/03/2020
ann
United States
bathroom
wonderful, used in my bathroom sink. Skin was clogged for over year. works fine now . couldnt removed all the hair from the brush and had to threw out . Can you but replacement brush?
12/26/2019
Serge G.
Canada
Drain Clog Cleaning KitWorks
Works perfectly. Best object to clean the drains. Happy I bought it.
10/16/2019
Karen T.
United States
Excellent
This works as advertised!!! Love mine!! Worth every penny for sure.
Works like a charm
I cannot live without it. Works like a charm every time. I gag at how much hair gets caught in my girls' drain.
works Everytime
Shanda Klodzinski use it yesterday ...works Everytime ...
Money Savers
I bought mine and wow it saved me a lot of money
Sink drains again
It did work...I'm very happy. About 2 cups of hair removed and sink drains again