12 in 1 Multi-Tool Hammer
Description: 
Save time and space with this powerful 12 in 1 Multi-Tool Hammer in your toolbox! Whether it's a home project that you're working on or a bicycle road trip, this tool will come in handy. Made from high-quality stainless steel, it will last you a lifetime.
Main Features:
12-in-1 design: hammer, regular pliers, cone hammer, wire cutter, bottle opener, saw, Philips screwdriver, sharp knife, flathead screwdriver, file and serrated knife
Made of high grade stainless steel, equip with craft of black oxidation
Convenient, durable, anti-rust, anti-corrosion, long service life
Lightweight, portable, compact, easy to carry in your pocket
High-quality exquisite multi-functional survival hammer

The clamp head features a lock position design, which can be flexibly operated on and off with one hand

The tail function part is equipped with a safety lock, which is very suitable for safety backup tools in automobiles
Perfect gadget for DIY home projects, gardening, heavy construction, road trips, etc.
Specification:
| | |
| --- | --- |
| Product Size | 14 x 7.5 x 2 (5.5 x 2.9 x 0.7inches) |
| Product Weight | 278g |
| Package Component | 1 x 12 in 1 Multi-Tool Hammer |
Customer Reviews
Write a Review
Ask a Question
Sturdy Multi-tool
Bought this as a spare multi-tool for my extra EDC and it has made its way to my main EDC. Did not realize that the smaller tools had a locking mechanism that makes the knife nearly as sturdy as any fixed blade I have owned. The wire cutter does wonder in comparison to a leatherman. The hammer helps in lieu of using the side or back of a multi-tool.

Very good
For the latter purposes, this works just fine and a lot better than having to improvise with a pocket knife or one's fingernails, because improvising often leads to injuries. So, is it as good as a premium steel high quality full-size hammer? No way. Is it worth its price as a tool to carry around where the former would be inconvenient? Absolutely.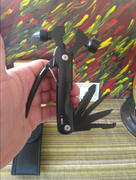 With realistic expectations, this can be a practical tool
Sometimes one can only wonder about the expectations that people have when buying a compact or pocket tool. Of course this is not a real hammer for use on a construction site, that is neither its intention nor purpose. The raison d'être of a tool like this consists in being small and light enough to be carried, say, on a hiking or camping trip, where carrying a full-size toolbox would be too heavy or bulky. In other words, the question is whether having a pocket tool is worth carrying versus not having a tool at hand at all when erecting a tent, removing rusty nails from wood or the like.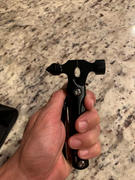 Quality tool and very versatile !!
Found this gem as i was looking for a multi tool to find around the house and am glad i took a chance on it! I used the RAK to hammer in some dry wall in the garage and it worked perfectly! I was very surprised to see how sturdy the material was for the price. This is the next level multitool as i also used it to go camping as well as field exercises as a combat medic for the army and it was very useful! I will defintely be keeping this in my ruck and will be seeing more of this in my unit as soldiers were asking me about this handy tool. Combat medic approved!!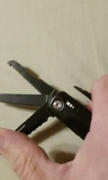 Great product
Product was delivered quickly. It is sturdy. Its a great thing to have on hand especially in your car. You will be prepared for anything if you have this product.
Great packaging and product
A great tool. Good quality.
For bikes
My husband keeps this as a compact toolset in his motorbike's gearsack.
Small but good quality
Great for throwing into a grab-and-go bag. Not the best hammer, as the handle weighs more than the head, but i would rather have this than be left empty-handed.
Nice to have
Overall, well worth the money and a great, unique multi purpose item.
Everyone should have one
This multipurpose tool is awesome to keep handy. I didnt take the hammer seriously, based on the photos, however, you can definitely use the hammer. Its a very solid product - and any tool you open has a secure lock mechanism.
The little tool that could!
Got this as a gift from my wife. Looks cool with good features but didn't think I'd use it much...already used it to cut wires and drywall to patch a small hole. Great gift.
Cool Stuff
Multipurpose tool. Works like a hammer, plier, wire cutters, bottle opener, knife and many more.