2 in 1 Portable LED Camping Lantern with Ceiling Fan
Description:
This lantern is super useful for camping for you to make your way around the campsite and your tent easily in the dark. The built in cooling-fan would also provide nice air circulation to keep your tent cool.

Main Features:
Ultra bright 18 individual low powered LED bulbs (up to 78 lumens). 2 settings on fan speed
Powered by 2 D batteries (not included)
Last up to 20 hours (depends on the settings)
360 degree rotation: the built-in fan can be rotated 360 degree both in vertical and horizontal direction, keeping spaces well-ventilated
Compact and lightweight to carry and store.
Specification:
| | |
| --- | --- |
| Product Size | 16x16x18cm / 6.2x6.2x7in |
| Product Weight | 430g / 15.16oz |
| Package Component | 1 x 2 in 1 Portable LED Camping Fan |
Customer Reviews
Write a Review
Ask a Question
Nice!!
I used this camping at the faster horses music festival and it was so nice to have!!! The light is great. Lite up my whole tent. The fan has two settings, low and high. I had it on high every night and it really makes a difference. I have a 3 person tent. It takes 6 D batteries and I used it all night for 4 nights and accidentally had it on the whole 3 hours home in my bag and the batteries are still working. I didn't use the light very long. Love the it just hooks easily. Had it hooked in the top of my tent above me. Love this fan.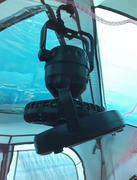 Worked Great for a 2 Person Tent, Would Recommend
I went camping this week and I just hate when it's sooooo darn hot in the tent and of course, there's no place to put a fan AND a light. This one worked perfectly. It hung by it's built in hook to the top of the tent, the light was just right and the fan was quiet and effective for a 2 person tent. Happy I bought it.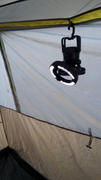 Good buy and decent price.
I purchased this last minute for a camping trip and wasn't expecting much for the price, but overall it surpassed my expectation. The fan only lasted two and a half nights (about 20 hours) on the high setting, but it lasted longer than the description said it would. The light was nice and bright and lit up my whole tent. On the low setting, the fan only created a faint breeze, but on the high setting I could feel the air on my face from 6-7 feet away. Having two hinges made it easy to point the fan and light in separate directions and overall I was happier with it than I thought I'd be.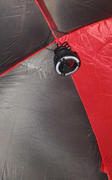 Makes sleeping in a tent tolerable
The light would be fine to find things in a tent at night only. The fan moves a good amount of air, and is quiet. The white noise might even help you sleep. I needed a fan for my gym locker as their air flow is poor.
MUCH better than the others
Would definitely recommend!! We use these camping all the time and have an extra at home just in case of emergency. The LED lights are incredibly bright.
Great product, highly recommend!
I took this fan camping in Palo Duro Canyon in a tent that is 10' x 9' and 6' tall. The canyon is very cold so I didn't need it to keep me cool, it was just for air circulation of the heat primarily. So great
This Little Light Of Mine
Last minute decision to order a camp fan when the temps for the area I was traveling to for a 4 day camping event was projecting temps in the 90's. I purchased two of these fans as two separate orders (my friend wanted one too!). I did bring mine to use to cool myself while hanging out under the canopy in the afternoon watching the outdoor concerts.
I wish I had bought two of them!
Solid construction, works as advertised. I bought this for a camping trip because I'm one of those weirdos who absolutely cannot fall asleep without the white noise of a fan. It worked well enough for my purposes.
Decent fan for moderate temps and great light!
Considering the price this is a great item. The light is just enough for the space inside a tent but I wouldn't mind if it was a little brighter. So far it seems to be the best solution for a tent fan and light.
Great customer service from vendor even if the first unit was faulty
I think this fan is good, depending on your expectations. On a super hot camping night, I would want two, maybe even three of them. The light is bright, and very nice.
Worth the money lasts forever
I love this fan! I bought it to take to a festival, though I ended up needing it well before getting to go. The AC in my house went out and this fan (paired with house fans, of course) has saved my summer