USB Powered LED Waterfall Light
Description:
Create a romantic backdrop with these Curtain Waterfall Lights! The Warm-White LED lamp beads will bring a dreamy atmosphere to your bedroom or living room. You can easily cover up a large window or wall with them. Decorate for the holiday season effortlessly and add some super chic lighting to your home!
Main Features:
8 Flashing modes
Very long wire, and each branch wire has a small hook at the top, easy to hang from ceiling and window
10 Branches
Perfect for holiday party, wedding, anniversary dinner, birthday event, Christmas celebration, home, bar, restaurants, etc.
Made from ABS, PE, PP, and Electronic Components
Versatile, flexible, odorless, energy-saving, low voltage, safe to use
How to Use:
Plug USB into power supply
To select flashing mode, press blue button on plug or change with remote control
Caution: Avoid impact and open flame to prevent damage
Warning:
Electrical hazard: Keep control box and plug away from water
Choking hazard: Keep small parts away from young kids
Specification:
Product Size
Lead Wire: 4m/13.12ft
Main Wire: 3m/9.84ft
Branch Wire: 3m

/9.84ft

Product Weight
162g/5.71oz
Package Component
1 x USB Powered LED Waterfall Light
1 x Remote Control
Customer Reviews
Write a Review
Ask a Question
Daughter loves her new night show
I've been wanting to get curtain lights like this for my daughters play area but kept putting it off because I assumed they'd be tedious to hang and actually stay up but I literally had this up and on within 5 minutes. Just used some thumb tacks and hung the lights hooks on them. Came with remote which my daughter loves choosing the different blinking modes. Also like how you can dim the lights.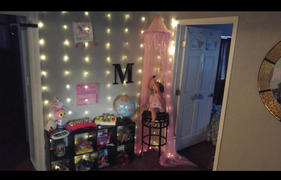 Cool Curtain Lights that can work for home or special events
I host a ton of events and it's great to be able to have options when it comes to setting the mood of the facility and accenting the decorations. I saw these curtain lights online and decided to give them a try. They are perfect for my needs, are powered by USB and can easily be hung and put away until needed again. The individual strings of light can be set as steady, flashing or flickering, controlled from the plug itself or the remote that comes along with it. For the price you can't go wrong. Will be getting more to compliment my home as they are an easy way to decorate.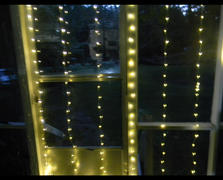 These are beautiful, and easy to put up!!
I used this on my bedroom wall, and it looks awesome! I like how you can change the modes to whatever you want. My favorite is the steady on, and the slo-glow. I kinda wish the twinkling would be a little slower though. It seems like it strobes a lot, and I'm not sure that I like that. But I do love these lights!
Sleek, cute and cool fashion/photo lights!
Stylish, bright and fun decorative lights! I was so excited to be able to hook these up above my patio door. They're beautiful and have different flash/speed settings to change. The light set also comes with a remote for easy control of their functions! Highly recommend using for an outdoor setting or even a photo background!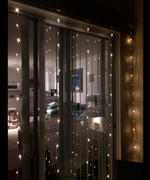 Great product
Well packaged and arrived quickly thank you
Satisfied
Great customer service, great buy
Wife loves them.
Wife loves them. No problems.