Multi-Functional Latch Door Step - Glass Breaker Safety Hammer, Easy Roof Access
Description:
This car door latch step is the perfect solution for loading and unloading cargo on the roof of your car or truck. It can also be used as a safety hammer or a glass breaker, making it one of the essential tools to have in your car
Main Features:
Made with aluminum alloy: supports up to 300lbs
Ribber on the backside of the step to protect your vehicles from scratches / damagers
Foldable design takes up very little space to store
Multi-functions: can be used as more than just a step to get to your car roof, but also a safety hammer or a glass breaker 
Specification:
| | |
| --- | --- |
| Product Size | 15x8cm / 5.9x3.1in |
| Product Weight | 345g / 12.16oz |
| Package Component | 1 x Multi-Functional Latch Door Step |
Customer Reviews
Write a Review
Ask a Question
Great little all metal step to access roofs, sunroof, ladder racks without stepping on your seat.
I normally don't leave 5 stars but this one deserves it. This thing is all aluminum and heavy duty. Fits nicely to the latch and dont flex when lifting ladders and pipes to the top of the truck. My wife also tested it on her car to clean the sunroof and now she wants one.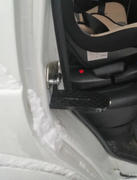 Excellent, useful gadget that makes things more convenient.
I chose this product because it is not too expensive and would get the job done. It fits under my seat so it's easily accessible. It's easy to put in place and I step on the door, then up to the step and then I am able to reach the roof easily. It claims to support up to 250 lbs-I'm not able to test that but it seems sturdy. I would definitely buy it again and have shared the link with family who also have SUV's. All in all a good product.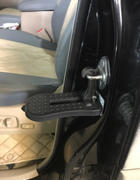 Good Quality
Well built, made out of sturdy materials. Very useful for roof access and would recommend.
Sturdy
10/10 best one you can get. I've had a bunch of them and they're sketchy, this one is solid!
Awesome
Everyone mut have one
10/10 best one you can get. I've had a bunch of them and they're sketchy, this one is solid!
Great product. Compact, solid construction, durable and super easy to use. Very stable connection to your door latch allowing you to climb up and load or unload items from the top of my SUV. Love this product. Highly recommended.
Good Quality
Almost umbreakble
Nice
Nice and sturdy. Would buy again
Works Great!
Works well and is sturdy
Comes with a pouch
Very useful. Good quality and very sturdy.
Solid built step up latch device - great buy!
This is great when you need to load something on the roof of an SUV! It holds my 300lbs with no issue!
Super strong and safe, will not damage door side.
This is a really useful product. Super sturdy and so handy. I like that it folds flat. I keep one in each side of the front door pockets so 2 people can use them at the same time when getting bulky items off a car roof rack. I feel really safe standing on this. What a great invention.