Solar-Powered Motion Sensor Security Light - No Wiring Needed, Easy Installations (BEST DEAL)
Description:
Our most economical option for a simple security light! Adds security to your home with this light, which can be placed anywhere you want in the garden, patio, or driveway! It is solar-powered and motion-activated, so no need to worry about wiring or extra electricity bill!
Main Features:
Upgraded to 20 Super bright LEDs
Automated switch - Auto on at night / Auto off at sunrise
Lights up brightly at night for 15 seconds when motion is sensed, and automatically changes to dim light when no motion has been detected for 15 seconds
Detects motion within 10ft / 3m and 120° angle
Easy to install: Mount it on the wall with the included pillar-hinge and screw
Solar-powered, with built-in rechargeable Li-ion battery
Charging Time: 7-8 hours on a sunny day
Lasts for 12 hours after each full charge
Durable, weather-resistant, heatproof plastic construction
No wiring necessary, user-friendly
Specification
Product Size
Fixed Solar Panel:
9.6 x 12.4 x 4.8 cm  / 3.7 x 4.8 x 1.8 inch
Detachable Solar Panel:
10.5 x 9.5 x 4.5 cm / 

4.1i x 3.7 x 1.8 inch

Product Weight

Fixed Solar Panel: 

170g/6oz


Detachable Solar Panel: 183g/6.46oz

Package Component
(1pc)

1 x Solar Sensor Light
1 x Expansion Pillar-Hinge
1 x Screw
OR
1 x Detachable Solar Sensor Light
1 x PIR sensor
1 x Extension Cable
You May Also Like:
32 Bright LEDs Solar-Powered Motion Sensor Security Light <---Click Here
Customer Reviews
Write a Review
Ask a Question
Solar Powered Security Lights
We purchased 8 lights last year and liked them so much we purchased 8 more, along with two larger ones. The only drawback was the delivery time. It took over three weeks before they arrived. The product is great. We like that the lights stay on dim all night and brighten up when there is motion...other lights go off immediately and only turn on when motion is detected. Would definitely recommend them
These are awesome!
Even better than I expected! I wanted some light for the backyard when using my smoker, the barbecue, grabbing some lettuce from the garden at dinnertime. In the past I've had mini lights going around the fence but they don't provide much light. Initially I was going to put all four along the back of my house but then seeing how much light they put out I realized I could put one on the back of the house, one of the fence to the left, one at the middle of the back of the fence and one on the fence to the right. As my dog walks around the yard they come on. It's also going to plenty of light for when I'm putting things on or off the grill or using my smoker which I plug in just behind the house. These were super bright right out of the box - no sun needed! All you have to do is use the little pin provided to click each one on. To install them it's just one screw (provided) at the top. They look great and work great AND don't cost anything to run since they're solar - perfect! My pic is with just two of them put up so far.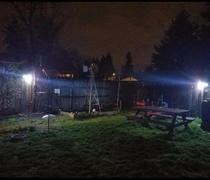 Modern, bright, and works perfectly.
Great lights for the price! I'm extremely happy with the outcome. The north side of my home is pitch black. I wanted solar lights so I didn't have to run any wiring. These are pretty bright and would irritate me if they were on all the time. I can see these come on through the bedroom window. They are mounted 5 feet off the ground. I put them as high as possible on our brick wall and when I'm hugging the opposite side of the wall the sensor still picks up my movement and turns on. Exactly what I wanted. They are mounted high enough that they can get charged. I left them in direct sunlight for a day before activating the master on/off switch so they can charge properly. No flickers and lights don't dim at all. I thought they would be bigger but they put out great light output to light up the whole side of my house. They are white with a blue hue (think of 5500k lights off a car with high intensity discharge headlights). I'm planning on getting more for a few other spots.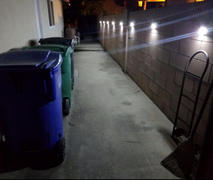 Nice
Love everything about this
Good stuff
Very much worth the price.
Good product, no regrets
I recommend this product
Great product for the $
Bought these for my daughter & she loved em, thinking about getting some for myself
Well worth the money!
Product is exactly what it says it is.
Nice
Love everything about this
Love it!
Definitely worth the money.
Good product, no regrets
I recommend this product
Awesome!!
Would definitely recommend to anyone who wants to add something more to their home.
Nice
So far its working well.
So Adorable
i liked quality of product and easy to use.
Good stuff
Very much worth the price.
Nice
So far its working well.