Solar-Powered Dangling Hummingbird Lights
Description:
This Solar-powered Dangling Hummingbird Light can add vibrant color to your porch or backyard! Hang these pretty hummingbirds to soak up the sun in the day and watch them light up at night!
Main Features:
6 beautiful hummingbirds
Solar-powered
Multi-colored LED lights
Specifications:
Product Size
Solar Panel Diameter: 12.5 cm / 4.9 inch
Total Length: 62 cm / 24.41 inch
Product Weight
350g/12.35oz
Package Components
1 x Solar-Powered Dangling Hummingbird Light
Product Color
Solar Panel: Black
Humming Birds: Green & Red
Light Color
Multi Color
Customer Reviews
Write a Review
Ask a Question
07/09/2021
Debbie

Canada
Well made beautiful garden feature
I'm passionate about humming birds and wanted this solar light/chime to add to my garden collection. I hung them next to my hummingbird feeder. It's lovely at night to watch the multiple colors as they change. Since they are of a good quality plastic they don't make your typical chime sounds which is great for me. I live and work in a campground so a traditional chime is out. This morning a baby hummingbird checked each of the six birds and gave it 5 stars.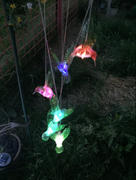 This is gorgeous in day or night
I bought the Hummingbird chime with the green wings and red nose. The strings are covered in plastic so they do not rot in weather. The colors at night are WAY more awesome than i thought!!! More colors than I thought. You can hear them in wind, no problems there. Awesome!!
07/22/2021
M. Gosse

Canada
Excellent
So glad l ordered them. So pleased with them, and will be telling my friends
07/12/2021
Marie S.

United States
Hummingbirds
They are truly beautiful...but how do I get the black green and red ones
06/12/2021
Rith O.

Canada
Hummingbirds
My son bought these for me, I love them!!!
05/21/2021
AttieOP K.

United States
Love them
Recieved as a gift from my grandaughter Have had them about a year...still lighting up...mine are the different colors. So pretty at night.
05/11/2021
April

United States
Took a while to get it
But I am very pleased with this. Colors at night are beautiful. Make sure to put it where it can get a good dose of sunlight. Glad I bought two.
05/10/2021
Jackie

United States
Hummingbird Dangling lights.
This light is so fantastic. My grandson bought me one over the winter. I have it hanging on my porch.I love to watch it change colors. It is worth the money.
04/10/2021
Dorothy E.

United States
Stunning
Just received the hummingbirds today. Delivered quickly and in one piece. Hung them and tonight they looked spectacular! They change color and are stunning to watch!! At this price I think I'll get more!! My patio will look amazing! Thank you!
04/06/2021
Mary . Sauble

United States
No Good Company‼️
A terrible company I would never buy any thing from this place. I bought 2 sets of Hummingbird lights and the one set didn't work from the day they arrived. I emailed them and they said my item was out of warranty. I sent a video to them still no replacement for the one set. I paid $24.99 for each set and ask for a replacement but they won't honor it. I'll never buy from this company again. I won't even give them a 1 rating. Mary E. Sauble
01/28/2021
Shari

United States
Colorful
I received this as a Christmas gift and even though it's winter here I have put it outside and I can look out the window and see the beautiful colors. I love it!
Effective
It works really well! Does exactly what it is supposed to do.