Solar Powered Motion Sensor Dual Spotlights
Description:
Use these solar powered spotlights for lighting up your garden, pathway, fences, wall, yard, driveway and more! The 
Main Features:
Front and rear light emitting design
Three-sided luminous angle with 43 LEDs
2 brightness lighting modes
Comes with a built-in 2200mAh rechargeable battery; charge through solar panel during the daytime, works from dusk till dawn (6-10 hours depending to the settings)
Wireless installation / set up: simply insert directly into the ground or wall-mounted
IP67 grading water resistance
Specification:
| | |
| --- | --- |
| Product Size | 28x14cm / 11x5.5in |
| Product Weight | 377g / 10.6oz |
| Package Component | 1 x Solar Powered Motion Sensor Dual Spotlights |
| Product Color | Black |
Customer Reviews
Write a Review
Ask a Question
These are well worth the money!
These are great! We bought two sets. Our property is well lit at night if we go outside or anyone comes into our yard. We have them set to just overlap each other as you walk down the pathway and around the sheds. They come with some heavy duty double stick tape and have stayed put for several months even in the very cold temps. Even the lights that only get indirect sun for a short amount of the day have plenty of charge for our needs at night. Great for taking the dog out at night too.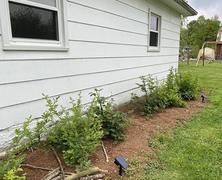 Impressive light For the money
I bought these lights to bring light to a dark area of my yard. They work well, are bright and very easy to install and operate. I gave them 4 stars instead of 5 because the motion detection doesn't pick up well directly under the light. However, they do work well out to about 20-25 ft if directly in front and about 15-20 ft on the sides. Light could be better but for the price it works well and floods a decent area with light. Battery life seems very good. I would buy them again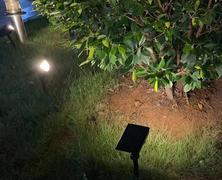 So far so good.
Bought these to light a walkway at night. Mounted them to an exterior wall. They get about 1/3 the day sunshine (but it's the Caribbean, so the sun is intense), but at night they are pretty cool. No electricity! I ran a bead of caulk around each one to ensure that critters didn't crawl behind, but the included mounting tape is perfect. I used one screw on each...wish it had been stainless as it's pretty rusted on each one now. But for the dough...they are great and the motion sensing is perfect. Literally can start walking down the sidewalk and it all lights up for you. I've seen no reduction in battery strength since I purchased them, and the rain actually keeps them pretty clean. I've only cleaned them once or twice since I've bought them and they look new still. Anyways, good stuff. Will probably try to use something like these again as I don't have to run electricity to each light.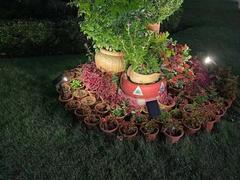 These lights work very well!
These lights seem to work every well. I have bought a few different brands of similar lights and these seem to be on the brighter side. One of them doesn't seem to be as bright as the others but most likely because it's not getting as much light to charge. I am planning to use these as walkway lights by attaching them to some wooden stakes. The upside is that the button to change modes is on the front. This means that 90% of the time I will have them on the motion sensor mode to save juice for the morning, but have the option to change it when having guest over and want the walkway lit up in the evening. (The other brands came with the mode switch on the back, so once it's attached you can't change the mode without taking down the light.) The only thing with these is that there is no clear, "you are in mode 1" ***** proofing, but overall it's not hard to figure out what mode you are on. I would definitely recommend these. So far so good!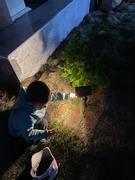 Awesome little lights.....
So far I'm very impressed by these lights. I like that they have an option for three different settings with motion. I chose to use the always off function with Max brightness when they detect motion. You can see in my video above that they work out very well for my situation. Definitely will buy some more of these in the future. I don't know how long they will actually last but even if they last me a year it's worth it for about $9 a piece !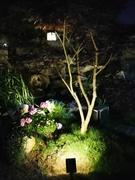 Very nice Lights
I have too many trees leading up to walkway that are not wide at the trunk. These are small enough to fit. I set these for brightest light which is a tad dimmer (bluer light that white lite?) than another wider set i have but it picks up motion great front and sides. I left these out for a day to charge and placed around my walkway for best night use and easy to install on trees. The one hole is big enough for wood nails. If these die i will probably try another small solar set for brightness.
Bright light!! Bright light!! Gremlins beware!!
Cloudy, rainey weather right now so, I have not tested all 4 lights yet.. One light charged in house and, came on. NOT as bright as advertised... Advertised and sold as 140 LED.. Paper work sent (User Manual) covers 70, 136, 200 LED.. Only can assume same info applies to these which are 140 LED. User paper (only small 1page) does NOT tell how to set the different modes, ie. dim, on all the time, or bright.. It is a GUESS how many times to press single button to get the correct mode.. VERY POOR INSTRUCTIONS. Can not suggest to purchase or not at this time.. Will wait to see if they work good, and for how long.. I did buy a 4 yr warranty to be on the safe side...
Works very well, doesn't have much longevity
Easy to install, really like the size and the brightness while it's on. However it doesn't have even 6 hours of consistent light. I haven't timed it specifically, but it's somewhere around 4-5 hours.
Easy fit for younger trees which is what i needed
Can't help but wonder about the expectations of the folks that complained about poor value in their reviews. At @ $30 for 4 just by surviving a Maine winter and going strong into summer they have exceeded what anyone should reasonably expect from something in double the price range.
Works well
The light is bright enough to see easily when walking out side. the motion detector is very good, lighting up quickly and in range of someone walking normally. I mounted them about every 10 FEET along my sidewall. Several friends after seeing them purchased them for themselves. Very good product.
Very bright on higher setting - motion setting
I bought these to put up at a camp with no electricity in order to have lights when walking around on the docks and getting in and out of boats at night. So far I am very pleased with how much light these put out even at the low setting. They look sleek and the angle of the solar panel works perfect to catch the sun on the side of a wall under the eve of the roof. I haven't had these very long so i can not give a honest review on the battery life nor how long they will last but if after a while they seem to be holding up I will definitely be looking to purchase more. These lights shipped very fast and were packaged very well too.
One of the best solar lights out there
After trying others I have found these to be the brightest. And they only have two modes, off and on, which is better than the 3 mode units in which dim lights stay on all night and wear out the battery. However, I think the price should be around 28.00 and I think I saw them for under that.
Very bright and functional!
Nice Lights. I let them charge for two days. I put one up last night and it works great. Very Bright light and works great at the entrance door to my garage. Picks up motion and lights bright as i approach. Very happy with the product. 5 stars for now and will change if they dont last or if any of the others dont work as perfect as the one i have up. I recommend as a good buy.
At 2400 lumens these are the best/brightest solar lights I have bought for under 30.00 for 4
Just got these lights yesterday to keep track of the dogs in the backyard at night. I'm very impressed with my first impressions of these lights the motion sensitivity is great and the lights are superbright and keep the yard well lit!!
Ok for the price
We use them in only on with motion mode as some of the locations we have them in get limited exposure to the Sun and we want to be sure the charge is there when we need the light most. The initial group threw more than enough light to take our dog out in what had been our inadequately lit side yard which inspired further purchases and experimentation with usage and placement. Our formerly pitch black 500 foot country driveway is now adequately lit not just to walk but even to snow blow. As an added plus the lights coming on whenever they ventured into sensor range has drastically cut down on nocturnal visits by coyotes and other creatures of the night. These lights have turned out to be quite the problem solvers for us, all without the need to run a single wire or incur any increase to the electric bill.
Bright, inexpensive motion sensor lights
If you are not too picky about sensor modes and just need some auto-on light around dark areas outside the house, these seem to fit the bill. Sure, they could have more modes and such, but I spread the four all around the outside, and they seem to pierce the darkness pretty well, and likely will scare away anyone lurking about, but also good for being able to see where you are going on a dark night. Not blinding (considering the number of LEDs), but works for me. The motion sensor actually has slightly more range than I might want (but not adjustable AFAIK). One of them replaced a non-working wired motion sensor light that stopped working, but having an electrician over (it's not just the sensor) would cost 4x what these LED lights cost!