Magnetic Wristband - Keep Screws and Tools Close at Hand!
Description:
This magnetic wrist band is ideal for home improvements or DIY projects. It provides a third helping hand when you need it most by keeping tools on your wrist while you work! Finish jobs in less time and with less frustration!
Main Features:
Made with Oxford Cloth, breathable and light-weight
Designed to meet the requirements of the pro

Embedded with strong magnets for holding nails, screws, fasteners, wrenches and small tools

Perfect for home improvement, construction, carpentry, and auto repair projects

One size fits all

Specification:
| | |
| --- | --- |
| Product Size | 13.7 x 3.5 inches / 35 x 9 cm |
| Product Weight | 2.29 oz / 65g |
| Package Component | 1 Magnetic Wristband |
Customer Reviews
Write a Review
Ask a Question
Good purchase.
I purchased this after I helped my husband hang drywall on our ceiling renovation project. We could have used a third person and at one point he dropped the screws while we were holding the drywall up. I immediately looked into getting something like this. It has a strong magnet and has worked wonderfully holding bits, screws and attachments while he is working. Thumbs up!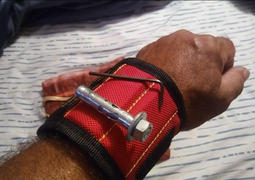 Great for DIY People
I'm the type of person who thinks: If you can do it yourself, then why not? This magnetic wristband is great for almost everything. Whether you are building something, taking it apart, or even looking for a little metal piece you might have dropped. It will definitely find it. The magnets are quite strong, you can hold a lot of materials on them and not worry about losing any. The wristband fits comfortably, doesn't scratch or chafe.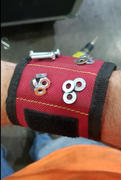 Great product for handymen.
I have a job on the side doing camera installations, so this would be a great addition to my tool kit. Within the wristband, there are 15 magnets, 3 per compartment, that would be able to hold a bit of nails and bolts for the job. It has a velcro, hoop and loop fasten, so it would last for some amount of time. It's very light, and made of a water resistant material, so it shouldn't cause any problems in damp areas.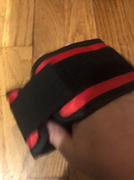 12/29/2020
Michelle P.

Australia
Very Handy
Bought this for my partner and he loves it. He is always making or fixing something and loves that he can always have a few screws right there with him no matter where he is working and I love it cause I no longer have to run and get the ones he drops when he is up the ladder. Win, win in my book.
A good buy
I bought one and loved it. I plan to buy a couple more around Christmas as stocking stuffers. Everyone could use one!
Five Stars
Arrived before I expected & is just as described. Thanks so much.
Five Stars
Arrived before I expected & is just as described. Thanks so much.
Great quality product
Very pleased so far!
No regrets, I love it!!!
Definitely a great purchase for me.
Great
Easy to order per size wanted. Shipping was fast.The quality is probably the best I have ever seen