Traditional Japanese Cast Iron Bell Wind Chimes
Description:
A beautiful Japanese Iron Bell design wind chime that brings you the sense of peace and pleasure. An Asian tradition that brings you luck in your surroundings 


Main Features:

Easy to hang: this wind chime is easy to hang on trees, fences, rod, bar, doorway etc...

Wide range of uses: nice decorative craft for different occasions
Produce pleasant ringing sounds to bring your cooling relief 
Specification:
Product Size

5 x 4.8cm (1.9 x 1.88inches) 


Total Length: 40cm (15.7inches)

Product Weight
120g

Package Component
1 x Traditional Japanese Cast Iron Bell Wind Chimes

Customer Reviews
Write a Review
Ask a Question
Adorable, functional bells
Would love more detailed designs on the bells, but they are functional with a nice sound when the wind blows. Not too loud. I used them on low lying roofs that I used to hit my head. So they are very functional. My sister used them in her bonsai to weigh down the branches.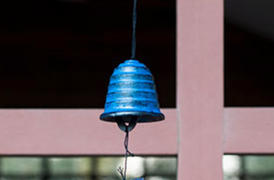 Adorable
The paper is wearing out quickly, but is simple enough to replace.
Very cool!
The chime sound is gentle and pretty--very calming on my deck.
Love this chime
I love this little wind chime! It is rather small, but is so adorable.
Surprisingly pleased....Excellent wind chime
Love this series of windchimes. When I saw the paper wind-catcher I thought....how cheap.....but those little things really do catch the slightest breeze making this chime sound
Gentle sound!
Thinking about giving these out as gifts.
It is exactly as I hoped it would be.
In love the sound of the bell. Paper that comes along with it can be replaces with something more durable if you want to. Overall it's worth having one at home.
Love it!
Pleasant to look at and makes a nice sound. The paper won't hold up very long if installed anywhere that the rain can get to it so keep that in mind and be prepared to fashion a replacement.
Makes a nice sound
This chime makes the most beautiful sound.
A great and unique gift
Beautiful music and beautiful chime
Gorgeous, simple, and lovely.
The paper part has withstood all types of weather and still flick at the slightest breeze.