Premium Magnetic Dash Mount Kit for Cell Phones
Description:
Docks your phone to your dashboard in a snap; this product is designed to provide safer and a more comfortable way of glimpsing at your phone whilst driving.
Main Features:
360

° rotatable, allows devices to be adjusted to any angle and keeps screen in full review 

Compatible with all smartphone models including Apple, Samsung, HTC, Blackberry, Google

The Premium Magnetic Socket perfectly fits any metal surface. Stronger magnet for safer placement

Powerful magnet and silicon center to provide tight absorption and smooth glide, works with most metal surfaces

 
Specification:
Product Size

1 x 1.1 inches / 2.7 x 3cm

Product Weight

2.8 oz / 80g

Package Component

1 x Detachable Magnetic Disk
1 x Metallic Phone Attachment
1 x 3M Tape
1 x Steel Ball Shape Mount
Installation:
With the adhesive metallic disk, you can simply stick it to the back of your smartphone or portable players, and place your device with metallic disc centered over the magnetic holder. The mating 360° rotatable ball shape mount allows you to adjust the phone to your most comfortable angle.
Customer Reviews
Write a Review
Ask a Question
Slik design, Great Megnet and adhesive
Slik design, Great Megnet and adhesive. This has changed the was I use my phone while driving, so convenient to attach with just a snap. Don't mind attaching metal plate on back of the phone to avoid using case. Over all this is very good quality mount. Sturdy, good Megnet and adhesive is great too.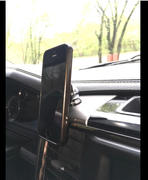 02/09/2020
Dawn
United States
Magnetic phone holder
It works well. Shipping took longer than expected.
Air vent Phone Mount
I do uber and lyft and nothing is better than this air vent phone mount for our job. I always use it and basically I test drove this before on my son's car and now I am using on my car. It is really great.
so easy to install
In a few words. the magnet is VERY STRONG
Super strong and sturdy!
I'm loving this thing!! I had a slight dilemma that my phone case is made of silicone so nothing sticks to it, so I thought I'd try attaching the magnet to the phone underneath the case, the magnet is so strong it still holds my phone with the case on so I'm over pumped. The best part is I don't have the magnet showing at the back of my case, and it holds just as well!! Super strong and sturdy. Definitely recommend.
It works perfect!
It is amazing product , you do not need any additional items to install it.Additionally, it comes with 2 magnets.
Easily re-adjusts to suit different drivers (rotates on the ball)
Great product. It replaced a magnetic holder that clipped on to a vent by the radio. Whenever the heat was on, the phone overheated. This one can be attached on an angle, and can be readjusted in myriad ways. Easily placed wherever needed, and can be moved (requiring additional adhesive, but I purchased extra at the same time I bought the originals-- I purchased 3 and gave two as gifts. They were greatly appreciated).
Great product
Great product!!! I recommend it !
Recommend it
It is just what I expeceted! Very satisfied