2 in 1 USB Mosquito Racket Lamp
Description:
Get rid of mosquitos immediately with this powerful electric racket! It can be used as an hand held electric mosquito racker or a mosquito killer lamp. 
Main Features:
USB rechargeable: ultra-fast USB charging; plug into any USB charger to charge
Designed with 2 exterior insulation layer and 1 interior ABS protective layer, protects users from accidentally zapping themselves
Built to kill mosquito instantly. Easy to clean after use
Specification:
Product Size
51.5x21.5cm / 20.27x8.46in

Product Weight
459g / 16.19oz

Package Component

1 x Mosquito Racket Lamp
1 x charging cable (adaptor not included)
1 x racket dock

Customer Reviews
Write a Review
Ask a Question
Useful for summer and rainy season
It has a safety barrier on it so if you do accidentally touch it. It will not shock you but do not push into it or you will get shocked. It has flashlight on it. It changes very fast and a battery life last a very long time. Very easy to clean and easy to use. This is a very neat tool.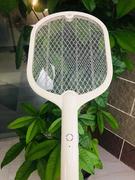 WORKS WELL!
So...this item is different than the run of the mill bug zapper racket thing.
Very useful good product!
My only beef with this swatter (and all of them) is that they do not have a rubber or softer edge, just the hard plastic. This one have a wide surface area, can be turned on for continuous activation, and I love that it's rechargeable but none of these electric swatters will get 5 stars from me until they have a rubber rim around the edge rather than just the hard plastic.
Better than most!
Battery life seems great, too. If I had known how cool these things are, I would have purchased one a LONG time ago.
This sucker is fun and effective!
This Bug Zapper Lamp works just as described. It's less messy and less dangerous than sprays/chemicals, is cleaner than a regular swatter (no smooshed bugs on the walls), and it's not as unsightly as a sticky strip hanging down.
Fun to use, works as intended, rechargeable
So far every fly has been a one hit ****, and I particularly like the heft. I wouldn't call it light weight as cheaper ones are lighter...but for its strong construction it weighs less than I expected.
Finally A Racket For Our Carpenter Bee Problem
This is perfect for those who have bug problems but also little kids who want to grab things as in the off position it is less likely that they will zap themselves or a sibling.
works as described
It also has a black light that activates when the device is on and read to zap. Not so sure this helps when your swinging at the annoying fly but works wonders when its set up at night as it attracts bugs.
Good Product.
It has an off, on, permanently on switch...a bit different than I'm used to. So in the off position its inactive even if you push the the other button. In the ON position it only activates when you also push the button. In the permanently ON position it stays on and acts like a traditional bug zapper.
No more bugs
It has rechargeable batteries and uses a standard micro USB to charge..nice.
THROW AWAY YOUR FLYSWATTER NOW
We have these annoying carpenter bees that come every year. We have tried to get rid of them, but they just keep coming back. Finally as the last way to cope, we got an old tennis racket and our daughter became the official carpenter bee whacker. She would smack them with the racket and then step on them if she could stun them enough.