3 in 1 Wireless Charging Bedside Lamp - Wireless Charging, Smartphone Stand, and Bed Side Light
Description:

Now you can tidy up your bedside desk, and combine the space of phone stand, wireless charging, and night lamp. Get this all in one bedside gadget for your bedroom! 

Main Features:
Qi Wireless Charger: compatible with all wireless charging enabled devices (iPhone X, 8 / 8 plus, XS, XR, iPhone 11 / 12 / Pro, Galaxy Note 8, S8, S8 plus, Galaxy S7 Edge, and etc)
Easy on eye curve lamp design 
High quality LED lights with 28 beads
Powered by USB type C cable (note: adaptor not included)
3 in 1 design with wireless charging function, smart phone stand and night lamp
Specification:
Product Size
21.5 x 13.5 x 2 (8.4 x 5.3 x 0.7inches)

Product Weight
169g
Package Component

1 x 3 in 1 Wireless Charging Bedside Lamp

1 x  Type C USB Cable

Product Color
White or Black
Output
5V/2.1A Wireless Charging Power
Customer Reviews
Write a Review
Ask a Question
Good product
This looks like an ornament, but it actually has many functions. Good-looking is just one of them. The intensity of the lamp can be adjusted for the desk lamp function by touching. The charging function is very simple, just put the phone on the top, it will auto charging my phone. The light is just about right and not too bright. Overall, I like this product a lot!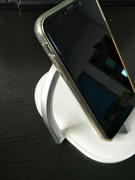 Coolest looking desk lamp!
This lamp is great to use when you are downsizing your desk. It is truly a two in one lamp. The lamp is a touch switch, using your finger to touch anywhere on the ring will turn on and off the device. It has 3 levels of brightness, low, medium, high. Sliding your finger will dim the light to your desire. Its ring shape gives it a unique look. The ring is also adjustable to 180 degrees to give you the best directional light if you are reading. The base is a wireless charging station that will charge your phone quickly. It does not work with a metal casing so be sure to take that off.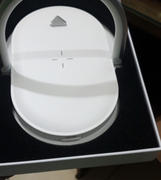 Great lamp and charger
My daughter loves this. No messing around with chargers anymore. She places her phone on it and that's it. It's bright enough to read with and it looks great too
Perfect for the bedside, or next to your favorite sitting chair.
We love this product! It has 3 different brightness options to choose from just by touching the frame. All the while charging your cell phone on the base wireless.
Great bedside addition - definitely recommend
I was sceptical when my wife told me she bought this for me. However, after a couple of weeks now I realize this addition to my bedside table is the best present she could have bought! The 3-level light is perfect and the phone charger works faster than my Apple iphone charger!!! Love it and definitely recommend this to anyone reading this review!!!
Good night light + charger
Cool techie light which works as promised and charges phone well. Definitely think more night light brightness than bedside lamp for reading or truly lighting the room. And I assume that on one it burns out, it's done since there's no way I can see to replace a bulb or fluorescent strip.
Very good product!
I really like the design, simple and elegant. The white and wood color matches exactly with the furniture in my bedroom. Super convenient.
Great product! Short cord.
I'm very pleased with this phone charging lamp! The light has 3 levels of brightness which are activated by lightly tapping on top of lamp. The only downside is the short cord, other than that it's a great product. Will be ordering another one.
LOVE THIS!
Wirelessly charges my phone with ease and the light this small touch lamp gives off is phenomenal! We ordered another one as soon as we received the first one!
Stylish but yet practical
Exactly what I was looking for , works just like it should.
Works As promised.
I have one on each side of the bed so I can reach over and turn on a faint light so I can see my way in the night. And charge my phone at the same time. I love them.
Good product but...
This product was very good, but it was very hard for me to find the sensor button in order for me to turn it on/off. Sometimes in order for me to turn it off I would have to unplug it from the wall. Overall great product! It chargers my phone completely good, looks the same as the picture and the lights work great! Good price for a lamp that charges your phone!
Modern and charges phone!
Wish this were 5000k but still love it. Modern and it has QI charger. Just tap to increase lighting.
worth every penny
It is such a nicely designed product - great bedside light and wireless charger. Plus there is no switch but only touch control. It is very quite, neat and elegant. Perfect for those people who would like a home without unnecessary cords.