6 Pcs Ceramic Mushroom Garden Decor
Description:
Made out of strong ceramic, with a beautiful colorful glaze at the top, these ceramic mushrooms are suitable for your garden or patio; simply place them around your flower garden, pottery pots, green grass, plants, or use them to set up the fairy garden theme scene.
Specification:
| | |
| --- | --- |
| Product Size | 5x5x12cm / 1.96 x 1.96 x 4.72 inches |
| Product Weight | 290g / 10.22oz for 6 pcs |
| Product Color | Assorted Color |
| Package Component | 6 x Ceramic Mushroom |
Customer Reviews
Write a Review
Ask a Question
Great gift for ur college friend, ur grandma, 4 u when you're doing gardening on your own.
they would be a great gift for someone who likes gardening and putting cute little things in their garden. They're smaller than I expected but I love them and ended up putting them in a potted plant instead of the flower garden and they look fantastic. Other than the real thing, What's better than ceramic magic mushrooms. Great gift for ur college friend, ur grandma, 4 u when you're doing gardening on your own.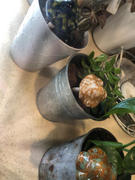 Cute!
The Ceramic Mushrooms look like what is depicted in the pictures. The colors are bright and texture of top is smooth with a shiny look. The stem has a rougher texture. Some reviews stated they were broken. Mine arrived safely. I will be careful pushing them into the soil. Very happy and received a discount.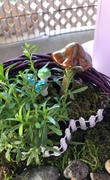 These are adorable and as pictured
These are super cute little mushrooms for a small space. I wish I could have given them 4.5 stars. My only complaint is that one of them had glue showing where the cap connected to the stem and 3 out of the 4 had the same beige color to them. I would have liked more variety in color. Otherwise, I love them and someone immediately complimented them as soon as I put them out. Great value for the price and quality.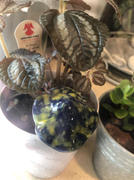 Cute as can be
Well made set of 4 ceramic mushrooms now accent my indoor potted plants. I am very pleased with the value and quality of the set. I received 4 different earthy colors.
Beautiful colors and great size
I really like them they are very light I've got to order a nother set the only thing that happened packing or delivering one of them one of the little mushroom was broken off the stem but what is wild about it at the time when it was delivered I was doing a project and had my hot glue gun out so the one that was broken I glued the mushrooms back onto the stem and you can't tell it was ever broken LOL
Cute addition to garden
These mushrooms are cute. Their coloring is a bit different than advertised but they still look great in my garden. One arrived broken, but I was able to super glue it back together and it will do just fine! The seller offered to replace the broken one, but fixing It worked just as well. Ordered another set because they were smaller than I thought.
Cute in the Garden
I bought these for my sister at Christmas. I liked them so much I bought another set for myself. They look so cute in the garden. I love them, and so did my sister.
Love these
These are really cute little mushrooms and they came well packaged. I added them to my indoor plants along with my gnomes. I love them. I have not had issues with them breaking. The colors are beautiful.
Small but still worth it!
Well, not as tall as I thought lol they are maybe 4 or 5 inches and FRAGILE !!! but I will say all came in perfect condition and are cute in my pots
Very classy, giftable, and subtle.
Nestles nicely among ground cover or in a pot or basket. I like that they aren't immediately identifiable as an ornament and blends well with my shade plants. Perfect gift for gardeners!
They're cute!
They're so cute and great color! I love them!
Super cute!
They are about the length of your hand and super cute. One of them was broken when the package arrived but a little industrial glue did the trick in fixing it and it's still holding together after a big storm we had.