Description:
Insert into the ground or mount on a fence. This Rain Gauge is a must-have tool to measure every backyard weather, keeping your garden and farm in a healthy condition!

Main Features:
This rain water meter is marked with two scales (120mm and 5 inches)
Made of quality durable material
Weather-resistant acrylic construction
Specification:
| | |
| --- | --- |
| Product Size | 10 x 3 x 0.7 inches |
| Product Weight | 90g |
| Package Component | 1 x Garden Rain Gauge |
Customer Reviews
Write a Review
Ask a Question
Easy to install; very practical
I purchased this rain gauge over another like it because it came with a cleaning brush. A previous one I had kept getting slime in the bottom, and this one will be easily cleaned. I do wish the measurement lines were highlighted with a different color, but I wrote over mine with a Sharpie and I can see it from a distance. I do wish it came with a floating indicator to show water level easier, but overall, I like the design of this one. Aesthetics and decor were not my priority.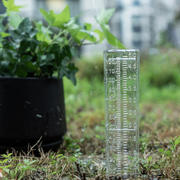 Great Rain Guafe
Nice..............Nice...........Nice
easy to read english and metic
great rain gauge
Rain Gauge
Very well made, but a little hard to read,
Works as advertised
The rain gauge is big enough to see without having to be right there. Mounting bracket is nice as you can remove the rain gauge to empty and reinstall with out any problems.
Great service
Product arrived very promptly, in good shape and looks like a great gauge.
Great design.
Looks great. Easy to install. Already measured 1.5 inches raon from yesterday's storm
Large rain gauge is easy to read.
This rain gauge is awesome! It's nailed to a post but is easy to empty and read.
Looks good
I haven't used this rain gauge yet as it's winter but it is what I expected. The markings are easy to see, and it comes with a brush and mounting screws. I won't know how accurate it will be until spring. It seems sturdy but I will have to wait and see how it holds up.
Great rain guage
This gauge is far better than my old one, but the reviews are correct. You need to do something to make the measurements more prominent. I'm going to try a Sharpie
Well made
Just what I was looking for! It is just as described, works good and it is well made. Glad I got this one!
Great rain gauge!
This is a very sturdy, well-constructed rain gauge. It was easy to hang and appears to be very accurate. I am also pleased that it comes with a brush to keep it clean! My only complaint is that it is somewhat hard to read because there are no color differentials for the rain level markings.