Glow-in-the-Dark Garden Pebbles
Description:
How cool is a night stone that looks like a pebble! These eco-friendly luminous Garden Pebbles require no electricity and look absolutely stunning during both day and night. They glow in the dark and will add a magical ambiance to any outdoor space. Decorate your garden path, walkway, backyard, bird fountain, or flower beds!
Main Features:
Provide safety of passage when no light source is available
Durable and weatherproof with a long service life of more than 15 years
Made from Luminescent Material and Synthetic Resins
Non-toxic, safe for your flowers and plants
Ideal decoration for pathways, gardens, lawns, backyards, driveways, edging, flower beds, vases, aquariums, fish tanks, swimming pools, etc.
Available in Blue and Green
Specifications:
Product Size
Length: 2-3cm/0.78-1.18inch
Width: 1.27-2.54cm/0.5-1 inch (Irregular Shapes)
Product Weight

100 pcs pebbles: 210g/7.41oz
500 pcs pebbles: 37.05oz
Blacklight: 334g/11.78oz
How to Use:
Expose to daylight or a light source for glowing in the dark effect
Turn off surrounding lights when night falls
Customer Reviews
Write a Review
Ask a Question
05/22/2020
Tonia
United States
Amazed Skeptic!
Rcvd my rocks today, and I'm literally so excited. They really do glow as advertised, and I cant wait to decorate my garden area this weekend. For starters, I wanted to just see if they really work, so just placed them in a single layer pile outside, and waited for it to get dark. The picture I have attached is of the rocks just as they are, without any special lighting added, and look at them glow! I will definitely order more!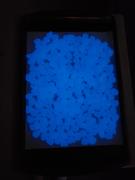 Everyone notices them when they visit our house and see a glow in the dark walkway that has been created out of these wonderful pebble stones
This is the second time I have bought these glow in the dark pebble stones. Everyone notices them when they visit our house and see a glow in the dark walkway that has been created out of these wonderful pebble stones. We've had kids visit and take a couple stones home as a souvenir. I plan to add them to another area of my garden. Fun product! Small price for a big impact in my garden..
nice glow
they glow till I go to bed lol as long as they get direct sunlight for 8 hrs even on overcast days still light up. I live where we get snow so will see their durability after in spring!
Nice Glow
We did this to our walkway, pretty cool
Glow in the dark penblls
expected more pebbles for the price. otherwise works as expected
yes they glow but not long
they are nice and do halite a walk way but they dont hold their glow for long….id like to see something that lasted longer
Glow in the dark pepples
They do not glow in the glow in the dark much at all
Garden Pebbles
The pebbles are SO beautiful and fun. But make sure you buy a large quantity because they don't cover a very large area.
get a dark light to glow well
price is alright. just need to get a dark light to make the effect stronger
Perfect for flower beds!
Today I received these amazing glow-in-the-dark stones and I wanted to see if they would actually go in the dark. They were only out in the sun for a few hours and when I went to check on them they were glowing very brightly! I plan to use the stones as a border around my flower bed in front of the house. My 4 year old son wants to put them in his fish tank so I may need to buy another bag! Tonight I caught him stuffing some of these glow stones in his pocket to take to bed to see if they would make a night light in his room. I'm not sure how these stones glow in the dark so well but they are truly incredible and will add a beautiful multidimension to my flower bed.
Works great but you need a lot of them
Bought these as a gift for someone for their garden. They worked great, and looked pretty cool. I had to laugh at the picture for this product that says it's Pebbles for Walkways. You'd need a lot of them to do a walkway like the picture. I purchased 300 and it came in something the size of a large sandwich bag. They'll look great sprinkled here and there in the garden, but if you plan to cover an area like what's in the picture, you'll need a ton!