Solar-Powered Dangling Hummingbird Lights
Description:
This Solar-powered Dangling Hummingbird Light can add vibrant color to your porch or backyard! Hang these pretty hummingbirds to soak up the sun in the day and watch them light up at night!
Main Features:
6 beautiful hummingbirds
Solar-powered
Multi-colored LED lights
Specifications:
Product Size
Solar Panel Diameter: 12.5 cm / 4.9 inch
Total Length: 62 cm / 24.41 inch
Product Weight
350g/12.35oz
Package Components
1 x Solar-Powered Dangling Hummingbird Light
Product Color
Solar Panel: Black
Humming Birds: Green & Red
Light Color
Multi Color
Customer Reviews
Write a Review
Ask a Question
Well made beautiful garden feature
I'm passionate about humming birds and wanted this solar light/chime to add to my garden collection. I hung them next to my hummingbird feeder. It's lovely at night to watch the multiple colors as they change. Since they are of a good quality plastic they don't make your typical chime sounds which is great for me. I live and work in a campground so a traditional chime is out. This morning a baby hummingbird checked each of the six birds and gave it 5 stars.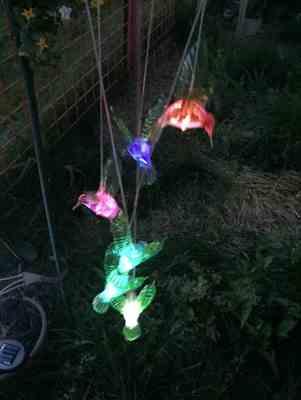 This is gorgeous in day or night
I bought the Hummingbird chime with the green wings and red nose. The strings are covered in plastic so they do not rot in weather. The colors at night are WAY more awesome than i thought!!! More colors than I thought. You can hear them in wind, no problems there. Awesome!!
05/27/2020
Laurine D.
United States
Love it
I received it for my Birthday. I absolutely love it!! It rained most of the day today. Very little sun light today , and it still lite up well tonight. Pleasantly surprised.
04/29/2020
Anonymous .
United States
Charming and relaxing
Received as a gift from my sister. The hummingbirds are beautiful! Colors and bright!!! Thank you.
04/25/2020
Terry B.
United States
Love it!
I bought one for myself and 2 as gifts. They are working great and they look fantastic!
04/20/2020
Barbara
United States
Hummingbird Chime
Solar hummingbird chime is awesome. Got for Xmas and hung up last week, lights are bright and were on almost all night. Looks great just hanging off the eave during the day.
03/04/2020
Catherine S.
United States
Beautiful
Received it as a gift - just love it. Entrancing the way the colors change.
03/02/2020
Wilma H.
United States
Solar lights
Great. I have bought these hummingbird solar lights for myself, and for many of my friends. Everyone that sees them, wants them. They are absolutely beautiful. I get so many compliments. Thank you
01/11/2020
Margaret j.
United States
Beautiful
They are just beautiful hanging on my front porch
12/09/2019
Yeda M.
United States
Solar hummingbird
They are very pretty
Beautiful
I have one hanging from the tree in front of my screened in porch in northern Michigan - it's beautiful. Very soothing to watch at night!!
Hummingbird lights
They are absolutely beautiful at night
Quick Delivery
I love mine!!! Bought one for my cousin. It did not take long for delivery!!!! Sit in my swing at night and watch them change colors!