Solar-Powered Fiber Optic Butterfly Light
Description: 
Stake these Solar-Powered Fibre Optic Butterfly Lights in your lawn for a magical display of lights. Pretty butterflies with a trail of colorful fibre optic lights! Perfect for all year round butterflies in your backyard!

Main Features: 
Fibre optic LED

Solar-Powered

7 color cycle

Butterfly colors: Yellow / Blue / Orange (ship in assorted color)
Waterproof level: IP65
Takes 6-8 hours to fully charge, lights up for 10-18 hours
Pointed to stake easily in your lawn or flower beds
Specifications:
Product Size

Tube Length: 67 cm
Butterfly height: 10 cm

Product Weight
150 g
Package Components
1 x Solar-Powered Fibre Optic Butterfly Light

Product Color

Yellow / Blue / Orange

Customer Reviews
Write a Review
Ask a Question
Great Product - Easy to install and very bright!
Product is easy to assemble. My wife put this together and I didn't even had to do the assembly. Lights are bright at night and when place where there's enough sunlight during the day, they tend to last throughout the night. They provide decent amount of light vs my other solar lights I have. Highly recommend!!!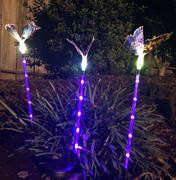 Great addition to the yard
Love these things! Very colorful and bright! I like how they change colors randomly, and most importantly they shine all night.
Perfect addition to my balcony
I'm pretty impressed by these solar beauties because they are way brighter than I thought they would be. I've had solar lights before but they were never this bright nor lasted all night long like these do. Make sure you give these lights a full day of sun., 2 days is better to fully charge. It will take a couple of days to fully charge if its overcast and lights may not stay on all night. Be patient and fully charge them. Enjoy!
Colorful and easy to install
It's beautiful and easy to install. I bought it on Monday, and it delivered on Thursday, faster than I expected. It changes colors itself and looks good at my front yard. Highly recommended!