Solar-Powered LED Fairy Lights
Description:
Bring a touch of cozy and romantic ambience to your home by simply adding a few strings of Solar-Powered LED Fairy Lights! They do not require any wiring and cost nothing to stay lit. 
Main Features:
Money saving, powered by sunlight, no outlet needed

Waterproof

Great garden decor, bright and eye-catching lights, decorate anywhere without dangerous extension cord

8 flashing modes, you can create the exact ambience you want!
Available in 100 and 200 LED version
Instructions:
Solar powered led lights require a full 8 hour charging up for 6 hrs of lights
Switches under solar panel:

On/off button
Mode button to switch between light settings

Solar panel has light sensors which will automatically:

Turn on solar lights when light levels are low

Turn off solar lights when light levels are high
**We also have the netting version; simply wrap and you're done: Solar-Powered Warm-White LED Twinkle Net Lights (240 LEDs) <---Click Link Here
Specification:
Product Size
Cable Length:
100 LED Versions : 12 m
Warm White 200 LED: 21 m
Product Weight
100 LED: 226g/7.97oz
200 LED: 500g/17.64oz
Package Component
1 x 100 LED Fairy Lights with Solar Panel
OR
1 x 200 

LED Fairy Lights with Solar Panel
Customer Reviews
Write a Review
Ask a Question
Great lights. I recommend these!
They are not the brightest lights but hey, they are plugged free and you don't have to worry at all to plug them and unplug them. I had them during Christmas time outside my house and they have been standing cold, snow, wind and sun. When we took them inside, they were still brand new, so I am very pleased with this purchase. They are really long as well, so it is definitely worth giving it a go.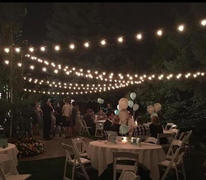 01/26/2021
MEK

United States
Have Used These Fairy Lights for Years!
I have ordered so many sets of these solar powered fairy lights over the past several years. I absolutely love them!. We live on a good bit of acreage and our backyard closest to our home is a lawn of beautiful green grass (in warmer weather(. We built an outdoor covered pavilion just outside the backside of the lawn, with pavers used for the flooring, a large fireplace and chimney, and plenty of seating both under the roof and out under the stars. We landscaped and graveled the whole area and instead of having everyone walking across the lawn and possibly tripping over the plants and border lining the area , we line a walkway leading from our back porch to the pavilion with the fairy lights on both sides of the path and also place the lights on the 6" border surrounding the entire site. The walkway also branches off to my "Happy House" (that is 16'x20'), built by my loving husband. I also use the fairy lights to line a wall on the right side of our home and to line the garden of shrubs and roses that is just to the right of our front steps that lead to the front door. I am always finding new creative ways to use the strands of solar lights and therefore, I have ordered many sets of the 100 LED bright warm white fairy lights and am about to place another order. I will comment about using these strands of lights for a long period of time. Occasionally, a strand of lights stops working, despite getting adequate sunlight. Before I just assume the strand is no longer useful, I will unscrew the battery holder and remove the existing battery, test it, and if the battery is obviously dead, replace it with the equivalent size of whatever brand I have available. Usually this gives new life to the strand of lights, but on occasion, I will find the strand to be past it's lifespan and replace it ,
Super fast delivery.
Nice Product.
Highly recommend
Awsome product
Great value, great item
Item is great. Love them !!!
Highly recommend
Awsome product
09/11/2020
Wilma M.

Canada
Summer Loving
Winter Spring Summer Fall. No matter what season my solar power lights are twinkling. I change the batteries every 6 months with double AA batteries and we are good to go. This was my summer picture 2020.