Solar-Powered LED Firework Garden Stake
Description:
Spice up your outdoor space with some imaginative lighting! Bend these LED Firework Stake Lights into any shape and stake them anywhere under the sun! They are solar-powered and energy-conserving, so you never have to worry about extra electricity fee. Show off your creativity and enchant your house guests!
Main Features:
Super bright lamp beads on bendable copper wire
8 different flashing modes
Available in Multi-Color and Warm-White
Charges in direct sunlight for 6-8 hours
Automatically lights up at night for 8-12 hours
Waterproof and durable, suitable for outdoor use
Energy-efficient, safe, eco-friendly, long service life
Easy and quick to set up on your lawn with provided stakes
Made from PVC, Copper Wire, and Stainless Steel
Perfect DIY decor for gardens, backyards, outdoor parties, weddings, festivals, etc.
Available in Warm-White and Multi-Color
Caution: Keep away from open flame
Specification:
Product Size
Copper Wire Length: 21cm/8.27inch
Stainless Steel Tube Length: 31cm/12.2inch
Solar Panel: 8x8x2.5cm (lwh) / 3.15 x 3.15 x 0.98inch (lwh)
Product Weight
247g/8.71oz
Package Component
1 x Light
1 x Solar Panel
3 x Stainless Steel Tubes
1 x Ground Stake
Certification
CE Certified
Customer Reviews
Write a Review
Ask a Question
Beautiful Lights
These lights are great. You can set them to stay on, or to blink. These are so different then the regular lawn lights and so beautiful when they light up at night. I wish there were more than 2, but I just set on at each end of my porch and plants.....and they look awesome. We even had a thunderstorm the next night after I placed them outside, and they withstood the storm, lighting up brightly that night and there after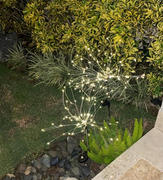 Five Stars
worked very well
Five Stars
worked very well
Five Stars
worked very well
Great Value
It was much better quality thsn I expected for the price.
Good strong product
GREAT
Five Stars
worked very well
Five Stars
worked very well
Great product, just what I needed
Just want I needed. Worth the price.
Happy with my purchase
Great quality
Great product.
Thanks it works great!