Solar Powered Motion Sensor Courtyard Light
Description:
Brighten up your way home and keep your family safe with these courtyard sensor light! They are solar-powered, waterproof, and easy set up. 
Main Features: 
Different lighting modes
Built-in upgraded sensor, PIR motion sensor system; sensing distance up to 15ft (4.5m) and 120 degree angle
Brightness up to 500lum
Built in 1200mAh large capacity and rechargeable li-ion battery, 5V 300MA solar panel (energy conversion rate up to 20%)
Auto on at night and auto off during the day
IP65 grade water resistance
*Note: ideal installation height is approximately 6.5 to 10 ft (2-3 meters)
Specifications:
Product Size
11x14x3cm / 4.3x5.5x1.1in

Product Weight
334g/11.78oz
Light Color
Warm White or Cool White
Package Components
1 x Solar Powered Motion Sensor Courtyard Light
1 x Mounting base

Customer Reviews
Write a Review
Ask a Question
Failed in a few weeks but seller replaced with new one
This light worked well when I installed it and I was somewhat excited about it. However, it totally quit working after just 2 months. I carefully troubleshot it and made sure everything was connected correctly and it was. I contacted the seller and they replaced it with a new one. They were very cooperative.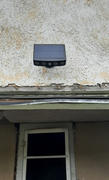 Just Bought Another After First Units are Going on Two Years of Oklahoma Weather Abuse!
Ever since I was a kid, I've been a fan of solar so it's great to finally see very practical uses of solar showing up for the homeowner. Bought two of these to light up the pitch black areas in the yard off of the sun room. WOW! Are they bright! Excellent, wide coverage too. Don't worry about mounting the bracket to the wall exactly level. The engineers of the thing left a little right-left play in the bracket to level the unit after mounting. Excellent! The length of the wire from the solar panel to the unit appears quite adequate for those who need to mount the solar panel farther away from the LED. I didn't measure the wire but I'm guessing at least 6 feet of total cable. I bundled the extra and just left it next to the solar panel on the roof of the sun room.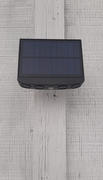 Picked a good one!
I bought this light for my daughter. Her front door is very dark and I wanted her to have a light with motion detection for security. I also liked the fact that you can set the amount of time that it remains on, as she has a dog that she has to take out at night. So far, this light has exceeded our expectations! It activates when she pulls in the driveway and remains lit until she is safely inside. As you can see from the included photo, it is also very bright. It lights up enough area, that she is never really in the dark when she takes the dog out. It has been installed for approximately one week and has already been through massive amounts of snow and sub zero temps, and is going strong. Fingers crossed that it enjoys a long life as well.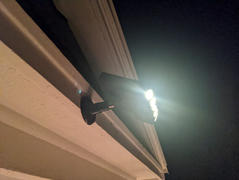 Very Good outdoor motion light with solar
I have put off writing a review because I am one that reads a lot of reviews before I purchase new products, so here we go. I purchased two these light's for my back yard which is approx. 300'longx100wide I thought well I'll buy two and if they're not any good then I'm not out that much money. So I put one at each of the house pointing toward the center and outward approx. 4000sq ft. So me and my wife set out on the back porch after dark and when I turned the dogs out and the lights came on I was amazed and still am they are still working just as good today which is two years later.I am now purchasing the 120 LED for my aging mother n law as a security light. I know a lot of people has written some bad stuff and I know there is bad and good in every single product that is made but for me I am 100% satisfied with the lights and the performance. I will try to add some pictures if I get a chance and I remember.
Couldn't have picked a better light.
The motion senor works better than I expected easily sensing motion and turning the light on. In my opinion the motion sensor works better than the ones on my 110V motion sensor lights.
Too easy to install
Super bright outdoor solar light. Strong and durable light. Very well made. It comes with the screws needed to hand it up. Very easy to install We put it up at our shed, over the doors, for much needed light at night. It illuminates a great area and gives enough light for us to work and put away things at night. Very pleased with this purchase.
Nice and bright! Easy installation and digital adjustment! - UPDATED!
It was easy to install and to adjust the Lux and Time On. I already have a couple other style solar motion lights installed however they are the type where the solar panel in part of the light and I needed one with the remote solar panel so that I could install it on the house to light up under the car port.
So great!
I'm ordering another one to replace it.
It outperforms the advertised features
Worked last evening, Not this evening, and it was a sunny day all today. shame. Returned to Amazon. Thank you Amazon.
Super bright outdoor solar light
This little unit throws out quite a bit of light; it easily lights up our porch. The only problem is you must have sunlight, and with winter here, we have had a few days when the unit only lit up a couple of times and then just stopped. I can't blame the unit on that, but we aware, cloudy days will limit number of times it come on. Set up was a little difficult (I put the solar panel on the roof on a piece of wood facing the sun). I am happy with the unt so far (about 6 weeks). It seems pretty well made. I have the main housing in a protected area, so I don't know how waterproof it is (but they claim it is waterproof, maybe). It does have more adjustments than my other one of these by a different company.
Four years and still going
The first and last photos are comparisons of one light at a time with the second photo showing illumination of both lights. Amazing!
yup, It Is good to go.
Take a look at side-by-side comparison photos. I have two lights at opposite ends of my driveway.
Very bright easy to install
I needed a good motion sensor light that I could install under my car port without having to install 110V wiring etc. I have only had this light for a short period of time which I usually wait a while longer before posting a review however in this case I decided to post a review based off a couple weeks usage because this light has been so great to date.
Perfect for my car port and driveway - Update after 1 year in use works perfectly.
It is BRIGHT, no really, look at the pictures, the light on the left is the solar light and the lights on the neighbor's house are electric 'normal' floodlights and they are pretty close. I was looking for a *good* light meter on the app store to see if I could measure the difference between the electric and solar ones, but none that seemed well enough to measure, so you'll have to trust the pics.