Super Bright Patio LED Umbrella Light - A Must Have for Outdoor Activities!
Description:
How many times have you found yourself sitting next to the patio table on a hot day, reading your favorite book, only to call it a night when the sun goes down? Or, trying to enjoy a romantic dinner in your backyard, but with nothing aside from the moonlight for illumination and you could barely see your food? Suffer no more darkness with this Patio LED Umbrella Light! Easily clamp it onto your patio umbrella and let it light up your surroundings brightly! Continue to enjoy a meal, play cards, or hang out with your friends late into the night!
Main Features
:
3 levels of brightness, choose by pressing the black button
28 energy-saving LED bulbs
Up to 30 hours of effective continuous illumination
Made from High-Quality ABS Plastic, lightweight yet durable
Can be used as an emergency light during a power outage
No tools required to install
No more unsightly wires and extension cords lying across your yard
Comes with adjustable clamps, fits on pole from 1.38" to 1.7" in diameter
Battery required: 4 x AA batteries (not included)
Available in Silver and Black
Specification:
| | |
| --- | --- |
| Product Size | 6.29 x 6.29 x 0.98 inches |
| Product Weight | 7.51 oz (213g) |
| Package Component | 1 x Patio LED Light |
Note: 
Package only includes one umbrella LED light. Please kindly note that no umbrella is included. 
Customer Reviews
Write a Review
Ask a Question
Great light
This is a great solution to lighting an umbrella-shrouded table without an extension cord. It is easy to install the batteries and easy to mount to the umbrella pole. I recommend mounting it just under the umbrella's thin metal extension arms unit that moves up and down the pole. That allows the umbrella to close in a normal fasion without having to remove the light.
Bargain light...lites bright!
Very happy with our light and particularly like the three levels of lighting provided...just add four AA batteries and you are good to go. Note that this unit is NOT waterproof so needs to be removed (takes 5 seconds!) from the umbrella when not in use. We left ours outside and it filled with rainwater. The good news is that we emptied it out and dried everything off and it still works like a charm. Nice product.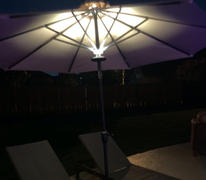 Well made and you can vary the illumination
This light is very bright if you face the LEDs toward the table. And it gently illuminates the underside of a patio umbrella if the LEDs are faced up and at its highest power. Holds well to a wooden umbrella pole and is very easy to operate the latch that allows you to remove or install the light onto the pole. Batteries last a good long time in this light. Highly recommended.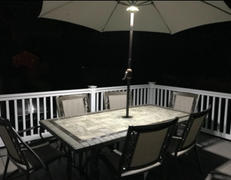 Ideal lighting solution for entertaining outdoors
Awesome umbrella light, so glad I ordered this! Opens up, and clips shut around umbrella pole. Spring loaded braces ensure the light stays in place but easily maneuvers higher or lower to adjust needed light. 3 different light settings from low, medium, and high allow you the best options for outdoor entertaining. This was money well spent! Be sure you measure your umbrella pole circumference though, just to be sure this is the right size you need. Aim lights up at bottom of umbrella for less light or ambience, aim them downward onto table for family game night and while eating dinner. This was actually the perfect solution for my patio set up to bring plenty of light.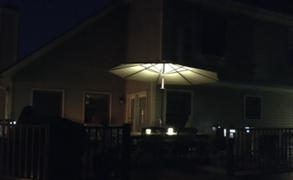 pleasantly surprised
For such a low-priced light, it does a beautiful job lighting up our deck table nice and evenly! In the picture, it is the only light on. If i turned it off it would be pitch black out there. The picture is the light at its brightest setting as well. Very pleased with it! Hopefully it lasts.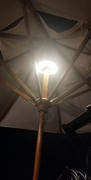 cheap and effective
It is very lightweight and cheap, but effective. I affix it to the umbrella pole just above eye level when standing, and shining up, not down. This provides a very nice subdued ambient light, that does not shine in your eyes. You could shine it down to play cards or dominos or other games. It is absolutely bright enough for that.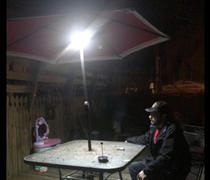 Good quality product
Awesome product worked perfect
Good quality product
Awesome product worked perfect
Great product!
They are fantastic!
Good quality product
Awesome product worked perfect
Good quality product
Awesome product worked perfect
Good quality product
Awesome product worked perfect
Good quality product
Awesome product worked perfect
Good quality product
Awesome product worked perfect
Excellent product
Good price
Good quality product
Awesome product worked perfect