Vintage Metal Retro Wind Chimes
Description:
Enjoy peaceful melodies each time when wind blows; the tranquil sound of a wind chime is an enduring present that will life your spirits long. 
Main Features:

Comes with 4 bronze durable aluminum tubes to create beautiful and harmonious sound

Sturdy and durable, waterproof and windproof, dustproof and rustproof
Light weighted and easy to hang
Specification:
| | |
| --- | --- |
| Product Size | 82x11cm / 32.28x4.33in |
| Product weight | 185g / 6.52oz |
| Package Component | 1 x Vintage Metal Retro Wind Chimes |
Customer Reviews
Write a Review
Ask a Question
Well made chimes
I hung the turtle wind chimes near my husband's memorial at the cemetery. He rescued many turtles off the roads, so they were appropriate. The wind chimes are an attractive coppery color and make a beautiful sound in the slightest breeze. They were very well packed, so that it was easy to hang them. The turtles were not completely flat, but would be even better if a little thicker. They have been up over a month and I am very happy with them.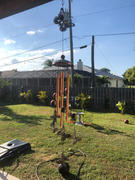 Vintage looking
I love mine as nobody can open the door without it being heard. Just a nice soft tinkling bell. O and a very cute owl on it too. Made of metal and comes with a metal strip so it attaches by magnet.
Nobody can come in without being heard
I got this as a gift for my sister for her camper and she loved it. I like the heavy feel of it and the light little bell sound it makes, though I was surprised by how small it was. The bell is about the size of a golf ball, maybe, but I like it that way. It has a little hole at the top to nail it in and it also has a magnet. I hung mine on my metal door with just the magnet and it stays perfectly.
Good value
I purchased this for my mom for Mother's day. She just purchased a new 5th wheel and this was the perfect gift for her and she loves it! She said she had to get something better to stick it on the camper because it was to heavy, she used velcro and it worked great.
So cute I got another one!
So cute! ... Well, someone else got another for me as a gift, in my favorite animal.
Small. But cute
Love how cute it is and the sound is crisp and strong.
Very nice
Small, but well made and very nice. Thank you .
Nice
The sound is so pleasant, not invasive at all. It's a great way to know if someone is walking in your home.
Super cute
My boss had these doorbells on every one of her doors. I loved it so much that I ordered 1 for each of my doors and my Mom like them so much that I bought her one for Christmas.
Gladworts Metal Door Bell Chime
I ordered this as a gift for my sisters pottery shop. It has a pretty little sounding bell and craftsmanship is very nice.